Benjamin Franklin High School
Class Of 1962
Past Kodak Moments
..."WITHIN THY WALLS WE WORK AND PLAY AND FRIENDSHIPS GROW EACH PASSING DAY"...
..A VERSE FROM THE B.F.H.S. ALMA MATER...
CLASSMATE, RON MIX, HAS GATHERED TOGETHER A MONTAGE OF VINTAGE MOVIE CLIPS AND HAS CREATED FOR OUR CLASS A VIDEO THAT WILL BRING FOND MEMORIES OF KODAK MOMENTS TO US ALL...
ENJOY!
GO TO: YouTube.com AND TYPE: bfhs62 reunion. CLICK ON THE "SEARCH SYMBOL" AND NOTE THE FIVE CLIPS AVAILABLE FOR YOU TO VIEW.
CLIP 1: MEMORIAL DAY PARADES 1958 - 1962, PART l, WITH THE FRANKLIN QUAKER BAND (in the uniforms), THE JUNIOR HIGH SCHOOL BAND (in the sweaters), THE VARSITY AND JUNIOR VARSITY CHEERLEADING SQUADS AND THE MAJORETTE CORP. THE BAND MEMBERSHIP WAS UNDER THE GUIDANCE OF MR. BENJAMIN SCAMMELL, THE DIRECTOR.
CLIP 2: MEMORIAL DAY PARADES 1958 - 1962, PART ll, SOME OF THE FOOTAGE IS IN BLACK AND WHITE, TAKEN OFF A TV SET (check out the TV!). THE 1962 MEMORIAL DAY PARADE WAS HELD ON A SUNNY DAY IN LATE MAY OF THAT YEAR, THE PARADE OFFICIALS NOTED THAT THERE WERE 75,000 PEOPLE LINING THE STREETS OF ROCHESTER...A RECORD CROWD.
CLIP 3: THE ANNUAL BFHS FLAG RAISING CEREMONY, SEPTEMBER 1961, WAS HELD IN CONJUNCTION WITH THE START OF THE NEW SCHOOL YEAR. PARTICIPANTS INCLUDED STUDENTS, THE STANDARD BEARER, AND CO-GUARDIAN OF THE FLAG. THE RITUAL BEGAN IN THE EARLY PART OF WWII AND CONTINUED AS A PEACE TIME PRACTICE.
CLIP 3 ALSO INCLUDES FOOTAGE OF OUR CLASS OF 1962 GRADUATION CEREMONY, JUNE 1962, WITH DR. GOOD, THE FIRST PRESIDENT, OF THE NEW MONROE COMMUNITY COLLEGE, AS THE KEY NOTE SPEAKER.
CLIP 4: THE 15TH ANNUNAL ALL HIGH SCHOOL MUSIC FESTIVAL, HELD IN LATE SPRING 1962, AT THE HIGHLAND PARK BOWL, IN THE BEAUTIFUL HIGHLAND PARK.
CLIP 5: WHAT'S YOUR FAVORITE MEMORY? COMMENTARY BY RON MIX, CREATOR OF THE VIDEO.
THANK YOU RON, THE VIDEO IS PRICELESS
Photos from the past...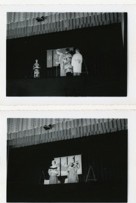 Lute Song- Senior Play

High School parking lot

BFHS Hallway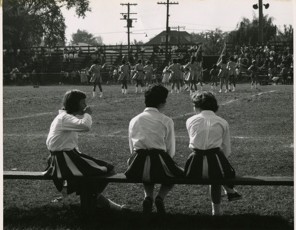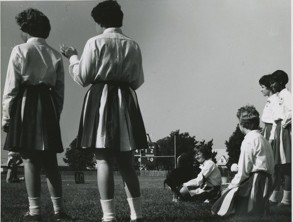 Football game, and Chearleaders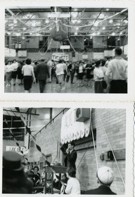 Sock Hop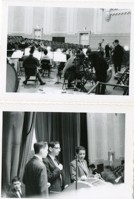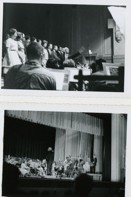 Quaker Band and Chior